Making "taco meat" out of raw nuts is the latest raw food craze, and for good reason – it's delicious! Even people who don't eat only raw foods find it satisfying and yummy. It's great if you're following a raw diet, a vegan diet, just after a cleanse or if you're simply trying to boost brain foods and clean eating.
We've rounded up three of the best Raw Taco Meat recipes out there, so you can create lettuce tacos, taco salad or even nachos or enchiladas! All you need is the taco base and you can make any traditional Mexican dish with it.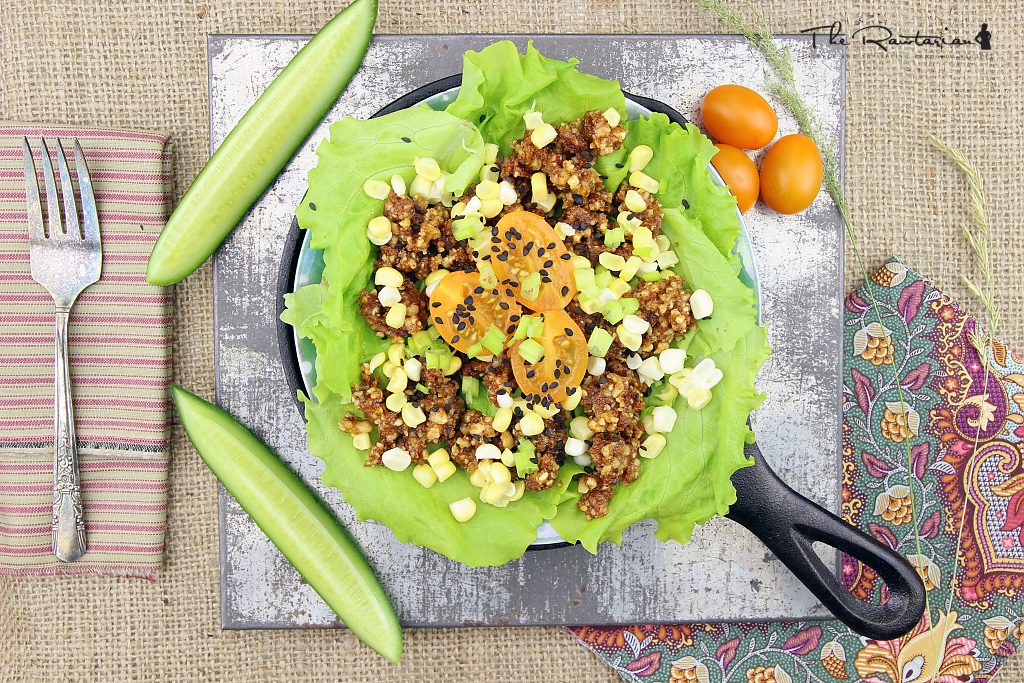 Raw Taco Meat Recipe by the Rawtarian
Raw food blogger Laura-Jane has been eating raw since 2009, and now creates recipes and teaches classes on eating a raw diet.
Her taco meat recipe looks beautiful and has nutritional values at the bottom of the post. We love the colors of her salad in a skillet!
Get the recipe here: http://www.therawtarian.com/raw-taco-meat-recipe.
Raw Taco Salad by Eating Vibrantly
Nikki is a mom and scientist who experiments with vegan and raw food in her spare time. Her raw taco salad is tried and tested – she's eaten in more than 4 times in a row and still loves it!
We love how simple she makes her salad, with its creamy, chunky goodness.
Get the recipe here: http://www.eatingvibrantly.com/raw-taco-salad/.
Raw Taco Fiesta by My New Roots
Sarah B is a Holistic Nutritionist and Certified Nutritional Practitioner (CNP) who loves to share her edible inspirations from her playtime in the kitchen, and her deep love for whole foods.
This recipe really satisfies her cravings for a Mexican feast, and is good for your brain! She also has a raw salsa recipe.
Get the recipe here: http://www.mynewroots.org/site/2011/07/raw-taco-fiesta-2/.